WHY WE COME TO YOUR HOME FOR NEWBORN PORTRAITS
For your Seattle lifestyle newborn baby photography session, we will come to your home. This makes your life easier since you don't have to travel and you can be photographed in the comfort of a familiar space. This also makes it easy to take care of your baby during your family's newborn photo shoot - you'll have all the snacks, diapers, changes of clothes and stuff animals you might need. The extra bonus is the personal touch that your photos will have - you'll always remember what your home was like at this special time in your life. What a special treat for your child, to be able to have their first home captured in photos! Here are 4 tips to help you set up for your in-home lifestyle newborn shoot with the Happy Film Company.

1) THE PERFECT SPOT IN YOUR HOMES
We usually take photos in the living room or master bedroom. Sometimes, if your child has their own room we'll get cozy in there too. You want to choose a spot that has a few options for sitting, standing, lying down and cuddling. We can always move between rooms but more often than not we just pick one room and stay put. The less moving around the easier it is for us to focus on photographing all the details you want to remember about this stage of your child's life. | The Hartman family chose to take their newborn photos in their living room. They had two couches, an ottoman, a couple bean bag chairs and a big blank wall. We crawled over everything!

2) BRIGHT NATURAL WINDOW LIGHT
The most important aspect of your home photo shoot location is lighting. We'll need to take pictures by a big window that has lots of natural bright light coming in. We don't want direct sunlight streaming through the window (that's too intense and can make picture taking very challenging). We want filtered white light, light through curtains or blinds or just atmospheric coming from outside. We will ask to turn off all indoor lights. The indoors lights make everything look orange and grainy - definitely not the look we're going for. Sometimes when we turn off the indoor lights it can feel super dark (compared to what we're used to) but don't worry, our cameras can handle it and your portraits will look much better this way. | The Hartman family had a living room with big open windows. We closed the blinds so the light wasn't as intense and we took photos from all different angles to capture the light through different windows. The more windows the better!
3) CLEAN SPACE
Once you choose a room in your home for your Seattle newborn photos, you'll want to make sure it's as tidy as possible when we arrive. Don't worry, we know you have a lot on your plate and keeping your house tidy is probably at the bottom of your list. We aren't offended (not even a little bit) by clutter, mess, dog hair or baby stuff. We seriously don't mind. We only suggest you tidy up a little bit so your photos are are pretty as possible. You probably don't want to have mess in the background of your pictures. When we arrive we might ask to rearrange furniture or move some objects around to help your pictures look as beautiful as possible. We'll also help spot little background distractions like shoes, water bottles or backpacks that might need to be moved to the side. | The Hartman family had some water bottles on their coffee table and in a couple photos we had to edit out our photography equipment that we forgot to move off the couch! Even we make mistakes somethings.
4) ACCESSORIES AND DECORATION
Think about the pretty colors, blankets, baby toys, whatever you love and want to include. These can include special toys you know your child will have for their whole life, items that are unique to your family's culture, fun baby clothes, or simply beautiful colorful accessories that will brighten up the images and make them look happy and stylish. | The Hartman family placed colorful throw pillows behind their baby and also incorporated a Bhutanes robe that was important to their family's culture. Oh, and we can't forget the most adorable little Snoopy-esk outfit!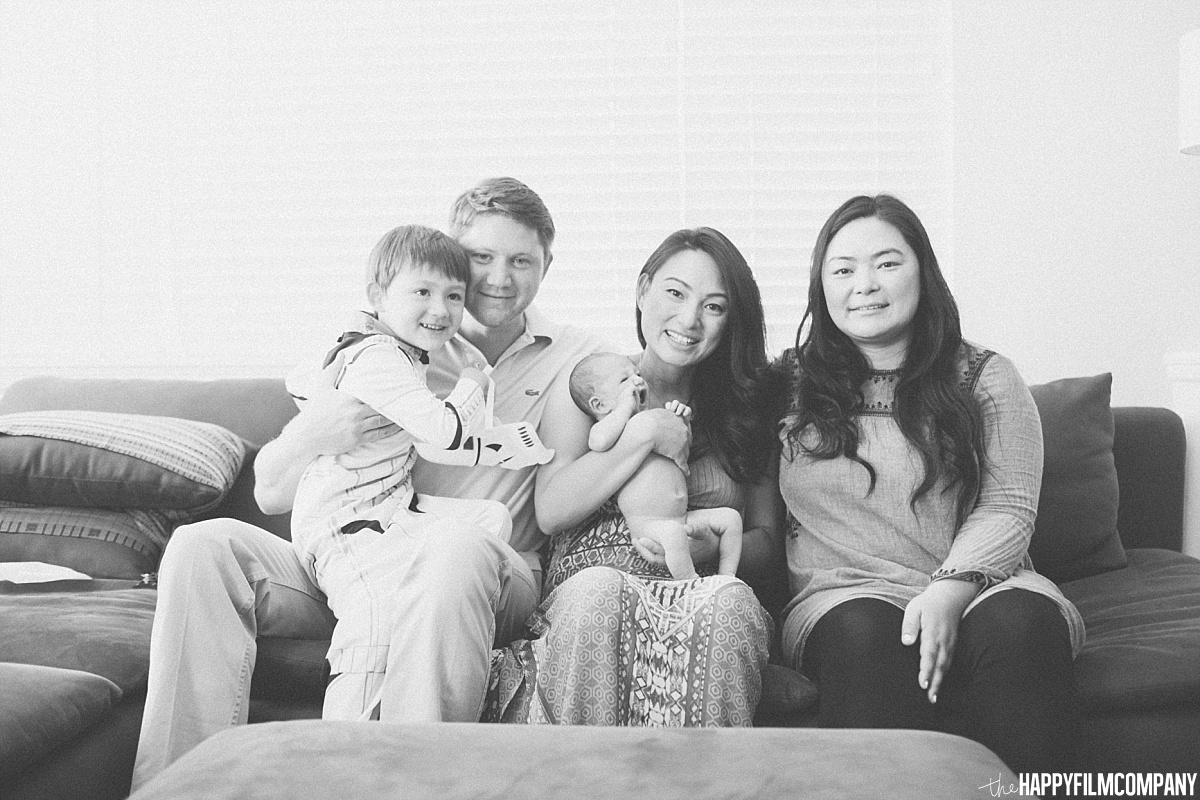 Thank you so much Hartman family for choosing the Happy Film Company for your Seattle lifestyle newborn photography session. It was wonderful taking pictures in your beautiful home and learning about your culture. We're excited to see you again soon as your family grows up!

Photographer: Chamonix & Sydnie
Location: Private Residence